3D2N Jom Mulu 2023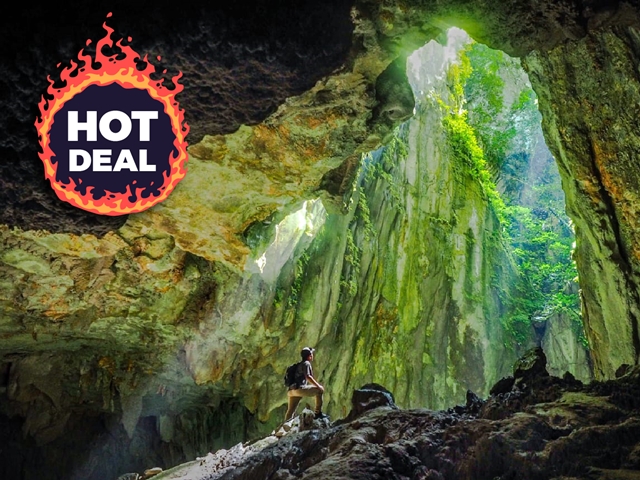 Minimum 3 DAYS advance booking
Visit the Show Caves of Mulu ; Deer & Lang's Cave, Wind and Clearwater Cave in a 3 Days 2 Nights trip. The caves of Mulu are one of the most impressive cave system in the world with lighting installed in the cave.
Benarat Lodge
Day 1: Meet the guide and proceed by van to Park HQ. Take the plank walk to visit DEER CAVE, one of the biggest cave passages in the world. Close to Deer Cave is LANG'S CAVE, small but beautifully decorated. In the evening we will wait at the entrance to Deer Cave, where thousands of bats emerge most evenings to hunt for insects over the forest. We then return late in the afternoon to Park HQ and transfer to your accommodation. (*Lunch, Dinner)
* No lunch if flight arrives in the afternoon
Day 2: At 0830hrs, we depart by longboat to the source of the Clearwater River. We first stop at Batu Bungan Penan Settlement for a short excursion of the settlement. You are able to see the hand made handicraft like baskets, bangles, mats by the Penan tribe. From there we go by boat to visit CAVE OF THE WINDS with unusual calcite formations, including the tall, slender stalagmites in King's Room. Just a few hundred meters upriver lies CLEARWATER CAVE where you have to climb 200 steps to the cave's main entrance; visit the Lady's Cave and the underground river. The pool at Clearwater Spring is a nice place to swim. In the afternoon, return to Benarat Lodge. Free & easy for the rest of the day. Dinner at accommodation's cafe. Overnight. (Breakfast, Lunch, Dinner)
Optional excursion: Canopy Skywalk at RM78 per person. The Mulu Canopy is the longest tree-based walkway in the World. As you walk among the ferns and vine 15-25 metres above the forest floor and river you will enjoy this unique opportunity to get closer to the rainforest 'Web of life'. It takes about 2 hours for the walk.
Day 3: Free & easy in the morning until check out. (Breakfast)
Price includes: Domestic Airfare, 2 nights stay at Benarat Lodge (based on twin / triple share), entry permit and fees, meals: (2B, 2L, 2D), boat fee, excursion to Show Caves of Mulu and Nature Guide.
Exclude: Guide Tipping RM10 per pax per day and personal items.
Tips for the trip: You need to bring along your raincoat, mosquito repellent, torchlight and good trekking shoes for the Show Caves. Also bring along your swimming suit if you wish to swim at the Clearwater Spring
+60 85 419 337(HQ) / +60 16 886 3304 (24 Hours Hotline)

richardtropical@yahoo.com

Miri HQ: Lot 906, No 12, Ground Floor, Soon Hup Tower Shopping Complex, Jln Merbau, 98000 Miri, Sarawak
Kuching: No. 385-G, 2nd Floor. SL10, Lot 17824, Star Point Angle Commercial Centre, Jln Stutong, 93350 Kuching, Sarawak
Kota Kinabalu: Lot.No F-3-2, Block F, 3rd Floor, Plaza Tanjung Aru, Jalan Mat Salleh, 88100 Tanjung Aru, Kota Kinabalu, Sabah