3D2N Team Building In Manukan Island, Sabah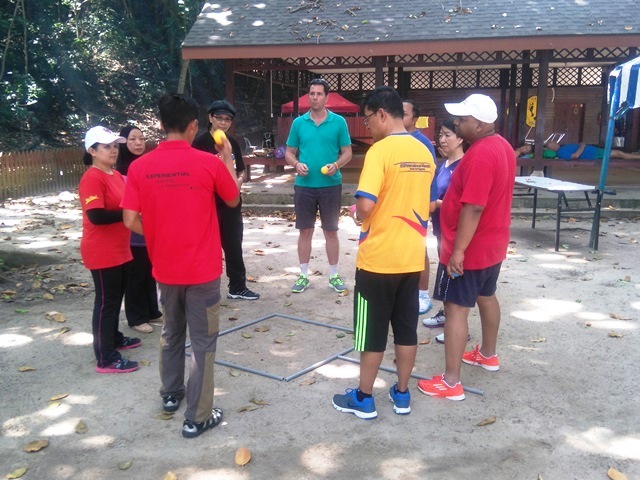 3 Days 2 Nights Team Building in Manukan Island, Sabah
MANUKAN ISLAND SABAH TEAM BUILDING 3D2N
Here below is our proposed Itinerary and we are ready to customise the timing schedule, activities or meals according to your needs.
Date

Time

Activities

Day 01

Meet at airport and transfer to hotel

2000 – 0000

Ice breaker at private function room

Supper & tea break will be served

Day 02

0810

Depart from Hotel to Sutera Jetty for Manukan Island

0830 - 0845

Depart & Arrival at Manukan Island

0900 - 1200

Fun Team Building activities Morning session

4 Games:

Helium Hulahop/Stick-Deceptively simple teamwork activity. Form two lines or circle facing each other. Lay a long, thin rod or hulahop on the group's index fingers.
All Aboard-A classic teambuilding activity in which a group is challenged to physically support one another in an endeavor to occupy an ever diminishing space.
Human Knot-The group tries to unravel the "human knot" by unthreading their bodies without letting go of each other people's hands
Robot Race-Communication and building trust activity

1200 - 1400

BBQ lunch – Private Beach Set up

1400 - 1630

High Performance Team Building activities in a form of treasure hunt

Focusing on:

Orientation
Navigation
Leadership command

1700

Departure from Manukan Island

1735

Estimate to arrive Sutera Jetty

1800

Check in hotel and own activity

Day 3

0900 - 1200

Shopping to Handicraft Market & photo stop at Mustapa Tower & City Mosque, Stop at Chocolate factory, drop off & Check in at KK Airport
Package inclusive :
All ground transfer, guide, teambuilding facilitator, teambuilding program and garland beads for participant, 1 Breakfast, 1 Tea break,1 private BBQ lunch beach setting.
Excludes:
Air-ticket, hotel and other items not stated.
For more information, email us at ask@SarawakBorneoTour.com
or call us at + 60 16 4123 304
+60 85 419 337(HQ) / +60 16 886 3304 (24 Hours Hotline)

richardtropical@yahoo.com

Miri HQ: Lot 906, No 12, Ground Floor, Soon Hup Tower Shopping Complex, Jln Merbau, 98000 Miri, Sarawak
Kuching: No. 385-G, 2nd Floor. SL10, Lot 17824, Star Point Angle Commercial Centre, Jln Stutong, 93350 Kuching, Sarawak
Kota Kinabalu: Lot.No F-3-2, Block F, 3rd Floor, Plaza Tanjung Aru, Jalan Mat Salleh, 88100 Tanjung Aru, Kota Kinabalu, Sabah