5D4N Miri & Mulu Pinnacles with Empurau Dinner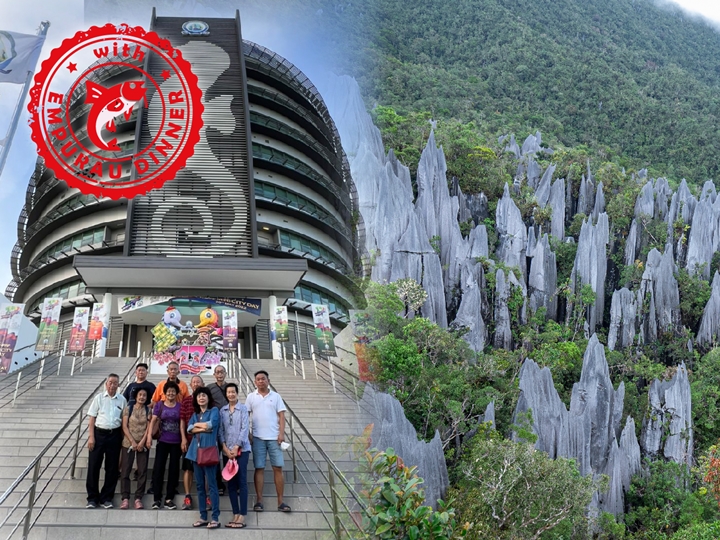 Check out the journey of DBStory with 2 strangers in conquering Mulu Pinnacles!
Check out also a wonderful video of the whole trip from one of our guests:
Go for Miri city tour and enjoy your dinner which includes the special dish with Empurau fish, the most expensive fish in Malaysia.
Day 1: Arrive Miri / City Tour / Empurau Dinner / Check in hotel (D)
Arrival in Miri then we go to do city tour for 3hrs, Tour features Malaysia 1st Oil Well or The Grand Old Lady located at Canada Hill, The largest Taoist Temple in South East Asia, Miri City Fan, Miri Heritage Centre (handicraft & souvenir) and visit Tamun Muhibbah ~ the local farmers market-you can find various tropical fruit and vegetable.
After the tour, enjoy your Empurau dinner before proceed to hotel to check in & overnight. (Dinner)

Day 2: Depart to Mulu / Deer Cave / Lang's Cave / Bat Exodus / Stay at hotel in Mulu (B, L, D)
Breakfast at hotel. Then, check out from hotel and transfer to airport on your own for your flight departure to Mulu. Upon arrival in Mulu, meet the guide and proceed by van to Park HQ. Take the plank walk to visit DEER CAVE, one of the biggest cave passages in the world. Close to Deer Cave is LANG'S CAVE, small but beautifully decorated. In the evening we will wait at the entrance to Deer Cave, where thousands of bats emerge most evenings to hunt for insects over the forest. We then return late in the afternoon to Park HQ and transfer to your accommodation. (Breakfast, Lunch, Dinner)
Day 3: Wind Cave / Clearwater Cave / Camp 5 (B, L, D)
After breakfast we depart by longboat at 0830hrs to the source of the Clearwater River. We first stop at Batu Bungan Penan Settlement for a short excursion of the settlement. You are able to see the hand made handicraft like baskets, bangles, mats by the Penan tribe. From there we go by boat to visit WIND CAVE with unusual calcite formations, including the tall, slender stalagmites in King's Room. Just a few hundred meters upriver lies CLEARWATER CAVE where you have to climb 200 steps to the cave's main entrance; visit the Lady's Cave and the underground river. The pool at Clearwater Spring is a nice place to swim and picnic. After lunch we go by boat beyond Clearwater Cave. From Long Lutu, an easy 3 hrs walk through virgin forest bring us to a Park hut on the bank of the MELINAU RIVER where it leaves the MELINAU GORGE. We overnight at Camp 5 (Breakfast, Lunch, Dinner)

Day 4: Mulu Pinnacles / Camp 5 (B, L, D)
The limestone mountains of Mulu are bedecked with sharp needles: the biggest and best examples, "THE PINNACLES", are on the north end of GUNUNG API mountain. Early breakfast and this morning we climb over 1000m up the steep path to a viewpoint overlooking the Pinnacles (the steepest sections have aluminum ladders for safety). If the weather is good, the four hour climb will be rewarded with wide views over the forest to Brunei and the South China Sea. Return to Camp 5 for another overnight stay. (Breakfast, Lunch, Dinner)

Day 5: Depart to Miri (B)
This morning we return on foot to Long Lutut and by boat down the Melinau River to Mulu Airport for your flight departure to Miri. Tour End. (Breakfast)
Includes: Air ticket Miri to Mulu (return), entry permit & fees, accommodation, meals as stated, excursion to Show Caves of Mulu & Pinnacles, Nature Guide.
Excludes: Guide Tipping at RM50 per pax per day, personal items & other items not mentioned.
+60 85 419 337(HQ) / +60 16 886 3304 (24 Hours Hotline)

richardtropical@yahoo.com

Miri HQ: Lot 906, No 12, Ground Floor, Soon Hup Tower Shopping Complex, Jln Merbau, 98000 Miri, Sarawak
Kuching: No. 385-G, 2nd Floor. SL10, Lot 17824, Star Point Angle Commercial Centre, Jln Stutong, 93350 Kuching, Sarawak
Kota Kinabalu: Lot.No F-3-2, Block F, 3rd Floor, Plaza Tanjung Aru, Jalan Mat Salleh, 88100 Tanjung Aru, Kota Kinabalu, Sabah