Mari-Mari Cultural Village Day Trip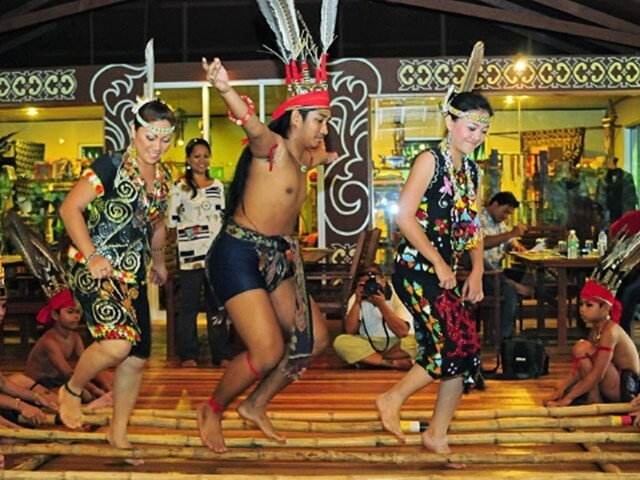 Kota Kinabalu is a city made up of a multi-racial society. Mari-Mari Cultural presents you the essence of the local tribes in Sabah.
Mari Mari Cultural Village is situated amidst a remote forest setting in Kionsom, Inanam. It is 25 mins away from Kota Kinabalu city. 25 minutes away from the hustling and bustling city. Tes, Sabahan's version of The LOST WORLD.
Come check out this cultural village and visit the traditional homes of the Bajau, Murut, Lundayeh, Rungus and Dusun.

9am Pick up from hotel / other designated places to the village. Upon arrival, as you assemble you will be briefed on the Village Rules...the Dos & the Don'ts.
As you enter through the suspension bridge, you will be fascinated with the sight of a river flowing. **Visit each tribe's traditional house and do some in house activities and stopover at demo. huts.After the performance, you will be led to the Dining Hall. You may leisure around for about 15 mins. to shop, take photos or just relax and enjoy the natural surrounding.
Enjoy delectable traditional and fusion cuisines for lunch / high tea / dinner before the end of the tour.Time to bid a primordial farewell to the village.Depart back to your hotel / designated place.

PRICE INCLUDES: Lunch, entrance fees, return land transfer, driver guide.
EXCLUDES: Guide tipping (suggestion RM5 per pax par day for Malaysia market) and personal items.
+60 85 419 337(HQ) / +60 16 886 3304 (24 Hours Hotline)

richardtropical@yahoo.com

Miri HQ: Lot 906, No 12, Ground Floor, Soon Hup Tower Shopping Complex, Jln Merbau, 98000 Miri, Sarawak
Kuching: No. 385-G, 2nd Floor. SL10, Lot 17824, Star Point Angle Commercial Centre, Jln Stutong, 93350 Kuching, Sarawak
Kota Kinabalu: Lot.No F-3-2, Block F, 3rd Floor, Plaza Tanjung Aru, Jalan Mat Salleh, 88100 Tanjung Aru, Kota Kinabalu, Sabah