Niah Day Trip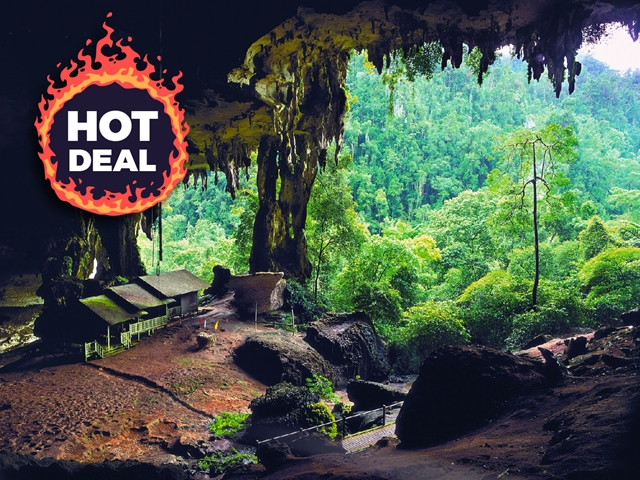 Niah National Park is located in Gunung Subis and is made up of several voluminous, high-ceilinged chambers
Niah National Park is an important prehistorical site where human remains dating to 40,000 years have been found.
Niah National Park lies in a large limestone block, about a kilometre long in general north to south direction and about half a kilometre wide.
Niah National Park is one of the most important archaeological sites in the world
The drive to Niah National Park will take you about 90 minutes. Upon arrival reqister at the park HQ.Hence by boat across Niah river to the museum follow by an hour plank walk to the caves entrance. This entrance was call The Great Caves. The Niah National Park, Sarawak is the site of the Niah Caves, one of the largest limestone caves in the world. The Park covers 3,102 hectares (7,756 acres) of forest and limestone. The peak of Gunung Subis, which is 394 meters high (1,294 ft), dominates the landscape. One may explore the vastness of the Great Cave, where archaeologists have discovered evidence of man's existence in Borneo dating as far back as 40,000 years ago. On display are the skull of a young Homo Sapien, some tools made out of stone, bone and iron, and cave drawings. Anthropologists established that the Niahian lived in the Caves from 40000 BC right up to 1400 AD. As more than half the park is covered with limestone, limestone vegetation is the most common variety of plant life. The families of Balsaminaceae and Begoniaceae are commonly seen at the entrance of the Traders' and West Mouth Caves. Peat swamp and mixed dipterocarp can also be found in the Niah. Animals are not easy to spot, but if you are lucky you may catch a glimpse of the park's inhabitants: long-tailed macaques, bulbuls, trogons, squirrels, flying lizards, Rajah Brooke butterflies, hornbills, mouse-deer, and water monitors. En route to park canteen for lunch. Return to Miri hotel or airport.
Includes: All transfers & tours as per itinerary, Excursion Niah National Park Day Tour, Services with English Speaking Guide, 1 Lunch
Excludes: Tipping of RM10 per person per day, Personal Expenses, Traveling insurance and items not included
+60 85 419 337(HQ) / +60 16 886 3304 (24 Hours Hotline)

richardtropical@yahoo.com

Miri HQ: Lot 906, No 12, Ground Floor, Soon Hup Tower Shopping Complex, Jln Merbau, 98000 Miri, Sarawak
Kuching: No. 385-G, 2nd Floor. SL10, Lot 17824, Star Point Angle Commercial Centre, Jln Stutong, 93350 Kuching, Sarawak
Kota Kinabalu: Lot.No F-3-2, Block F, 3rd Floor, Plaza Tanjung Aru, Jalan Mat Salleh, 88100 Tanjung Aru, Kota Kinabalu, Sabah