Sarawak Cultural Village Day Trip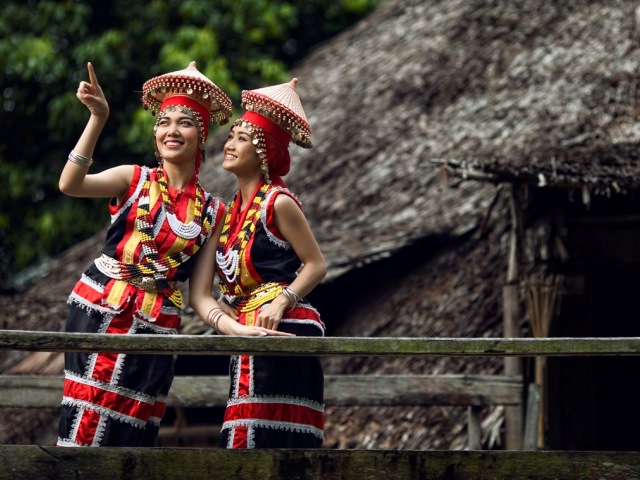 Sarawak Cultural Village in Kuching
Visit The Homes Of The Chinese, Iban, Bidayuh, Orang Ulu, Malay And Penan And
Melanau at the Sarawak Cultural Village
Visit Sarawak Cultural village and be introduced to the various ethnic tribes of Sarawak with their own unique culture and house structure that can only be found here.
Follow us on a half day Sarawak Cultural village tour. Get to know about all the ethnic tribe culture and livelihood in one afternoon, right here at Sarawak Cultural Village. See the different kinds of culture here in Sarawak and the different kinds of cultural performances for your enjoyment.
| | |
| --- | --- |
| Sarawak Cultural Village | Bamboo dance |
In the Sarawak Cultural Village, there are different kinds of real sized replica buildings of the different ethic groups in Sarawak. From the Dayaks such as the Bidayuh and Iban to the Malays and also the Chinese, you will be able to see and feel the cultural style of living of the ethnic in Sarawak.
Sarawak Cultural Village Itinerary
You will start your visiting in this 17-acre site where there are replica buildings representing every major ethnic group in Sarawak; Bidayuh, Iban and Orang Ulu longhouses, a Penan jungle settlement, a Melanau tall-house, a Malay town house with adjacent top-spinning court, a Chinese farm House and a Chinese pagoda.
After the visiting,you can enjoy a multi-cultural dance performance for 45minutes in the village's own theatre.
Includes: Entrance tickets and transport to Sarawak Cultural Village
Excludes: Personal items and driver tipping RM10 per pax
+60 85 419 337(HQ) / +60 16 886 3304 (24 Hours Hotline)

richardtropical@yahoo.com

Miri HQ: Lot 906, No 12, Ground Floor, Soon Hup Tower Shopping Complex, Jln Merbau, 98000 Miri, Sarawak
Kuching: No. 385-G, 2nd Floor. SL10, Lot 17824, Star Point Angle Commercial Centre, Jln Stutong, 93350 Kuching, Sarawak
Kota Kinabalu: Lot.No F-3-2, Block F, 3rd Floor, Plaza Tanjung Aru, Jalan Mat Salleh, 88100 Tanjung Aru, Kota Kinabalu, Sabah